About Us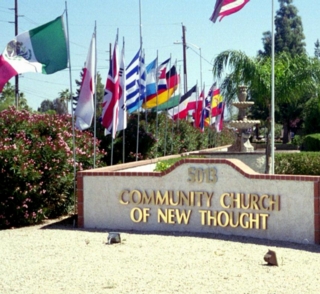 Who We Are
Community Church of New Thought was founded by Dr. Lola Pauline Mays and the Rev. Cecil B. Mays. The School of Ministry associated with the church is named in honor of Dr. Lola Pauline Mays.
We are a Judeo-Christian-based, non-denominational ministry with emphasis on what is right with the world and humanity. We teach principles of practical Christianity similar to those taught by Unity, Religious Science, and Divine Science.
We are affiliated with the International New Thought Alliance, an organization of some 300 ministries similar to ours. There are undoubtedly about 2,000 such ministries in the world.
What We Offer
We have a School of Ministry, Pastoral Ministry, Prayer Ministry, and Practitioner/Counselors. We officiate at weddings, funerals, memorial services, baptisms, and christenings. Stop on by to meet our staff!
Our Sunday Service is 11:00 a.m. We have a bookroom with many new and used metaphysical, self-help, and truth-oriented books. Offices and bookroom are open Monday through Friday 9 a.m. to 4 p.m. The bookroom is open on Sunday 10 a.m. to 1 p.m.
Where We Are
We are located at
Community Church of New Thought
5013 East Broadway Road
Mesa, Arizona 85206-1301, USA
and you can reach us
by Phone: (480) 830-1074 ,
by E-mail: please use our e-mail form ,
or by Fax: (480) 830-2561 .