Church Service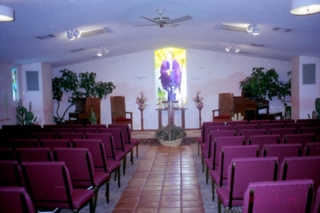 Our meeting and mailing address is:
Community Church of New Thought
5013 East Broadway Road
Mesa, Arizona 85206-1301, USA

Phone: (480) 830-1074
E-mail: please use our e-mail form
Fax: (480) 830-2561
Everyone is welcome! Join us this Sunday!
10:00 a.m. to 1:00 p.m. - Bookstore hours
11:00 a.m. - Noon - Celebration Service
Our 11:00 a.m. Sunday Celebration Service is a joyous time of celebrating the known and unknown wonders of God as taught and experienced by Jesus Christ and other enlightened teachers, as well as the spiritual wonders of one's self. Song, meditation, message, and piano and organ music enrich this time of spiritual upliftment.
Monthly Lessons:
October 15, "How to Heal Your Relationships for Good" Dr. Mimi C. Ronnie
October 22, "Expanded Horizons Are Before You" Dr. Blaine C. Mays
October 29, "Developing a Zealous Attachment to Positive Living" Dr. Blaine C. Mays

12:00 p.m. - Refreshments
At noon, following the service, we have fellowship and refreshments in Joy Hall. While enjoying refreshments, you are also invited to browse our information tables in Joy Hall.
If you do not get a chance to join our Sunday Service, please send us your Prayer Requests.
Also, if you did not get a chance to tithe during our service, please feel free to check out our other options to donate - thank you!