Church Service
Please see below for our events.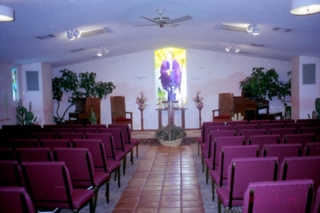 Our meeting and mailing address is:
Community Church of New Thought
5013 East Broadway Road
Mesa, Arizona 85206-1301, USA

Phone: (480) 830-1074
E-mail: please use our e-mail form
Fax: (480) 830-2561
9:30 a.m. - Adult Study
Jean Besich facilitates this adult study and prayer group. Various books and videotapes are used as a springboard for discussion. The group meets in the Main Office every Sunday morning from 9:30 - 10:30 a.m. Everyone is welcome.
10:40 a.m. - Prelude
A prelude to the Celebration Service is radiance, enchantment, love, and joy through the musical artistry of pianist Joyce Weaver, each Sunday morning, beginning at 10:40 a.m.
11:00 a.m. - Service
Our 11:00 a.m. Sunday Celebration Service is a joyous time of celebrating the known and unknown wonder of God as taught and experienced by Jesus Christ and other enlightened teachers, as well as the spiritual wonder of one's self. Song, meditation, message, piano, and organ music enrich this time of spiritual upliftment.

Thank you, too, for helping us to maintain a prayerful atmosphere during this time. Please send us your Prayer Requests.

If you did not get a chance to tithe during our service, please feel free to make a donation securely through

or check out our other options to donate - thank you!
12:00 p.m. - Refreshments
At noon, following the service, we have fellowship and refreshments in Joy Hall. While enjoying refreshments, you are also invited to browse our information tables in Joy Hall.
10:00 a.m. to 1:00 p.m. - Bookstore
Guests are welcome! Join us this Sunday!
Events
Please view our event calendar listing Special Events, Meetings, and Classes. You can also download it for import into your PDA datebook!