Weddings and Receptions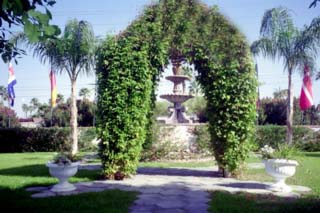 Community Church of New Thought
5013 East Broadway Road
Mesa, Arizona 85206-1301, USA

Phone: (480) 830-1074
E-mail: please use our e-mail form
Fax: (480) 830-2561
We are a non-denominational Christian church, flexible in developing ceremonies according to the wishes of the bride and groom. Our Chapel has a romantic and beautiful southwestern decor suitable for small, intimate weddings as well as larger weddings seating up to 120.
A vine-covered ramada connects the Chapel to our reception hall that accommodates up to 85 sit-down guests. An additional 65 sit-down guests can be accommodated in the courtyard which has lush citrus trees, a gazebo, water fountain, vine-covered wedding arch and ramada. There is ample parking.
You may provide your own minister, if desired. Or, you may utilize the ministerial staff of Community Church of New Thought. Community Church of New Thought also provides ministers for off premises services. Our priority is that your wedding be the most beautiful experience of your life. Let us help you with your special day!
Phone: (480) 830-1074
or E-mail: please use our e-mail form
Rates & Requests
Check out our Wedding and Reception Rates. If you would like to request a reservation, please fill out our Wedding & Reception Reservation Request.

Receptions, Reunions, Christenings, Baptisms, Memorial Services, Funerals
If you would like request a reservation for a reception, reunion, christening, baptism, memorial service or Funeral, please fill out our Event Request.